Mondays JH Boys Basketball practice has been changed to Ashley. Thanks!
Varsity girls basketball plays at 4:30 today.

Here is the bracket for the Girls Stutsman Tournament that starts tomorrow in Jamestown.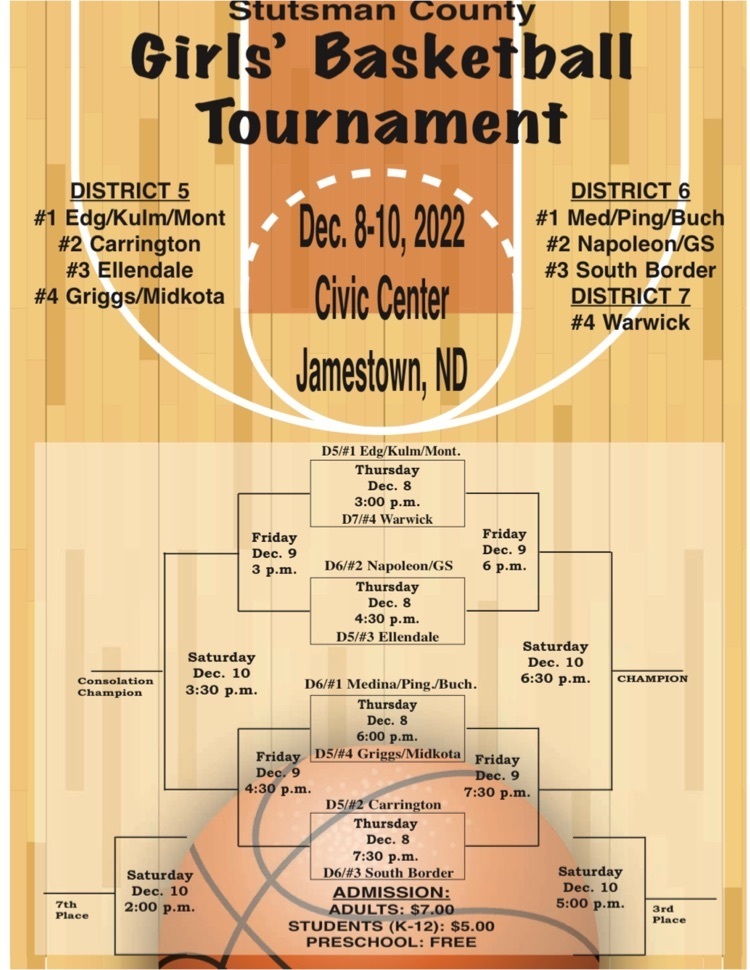 The Books are Fun books have arrived and have been delivered into the hands of our students. Thank you to our amazing community for your support.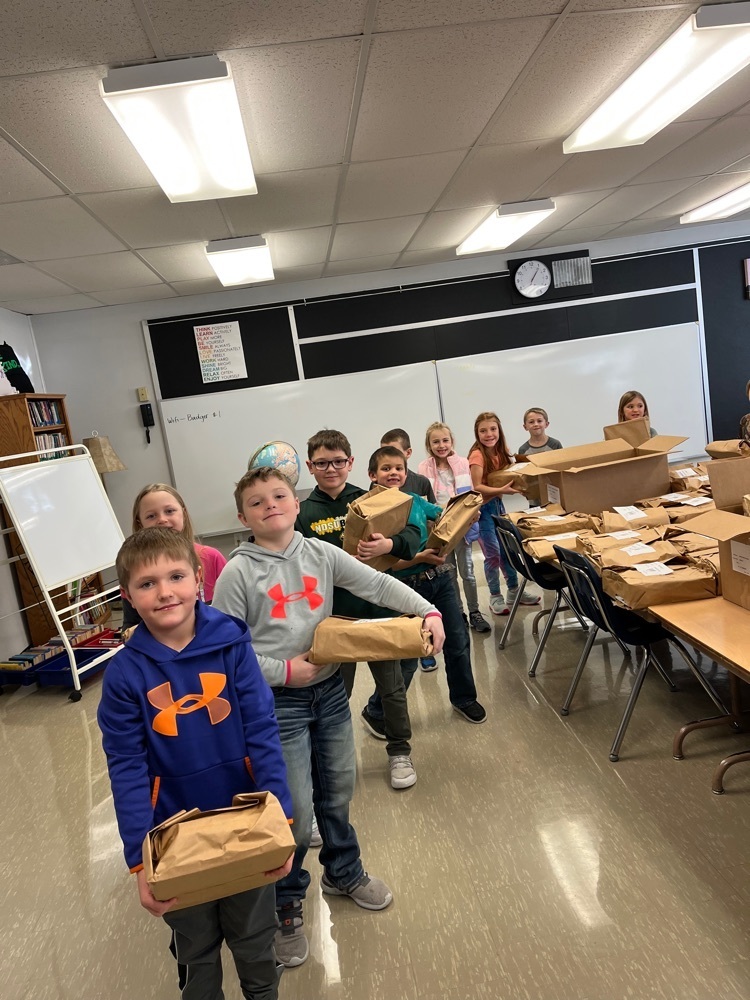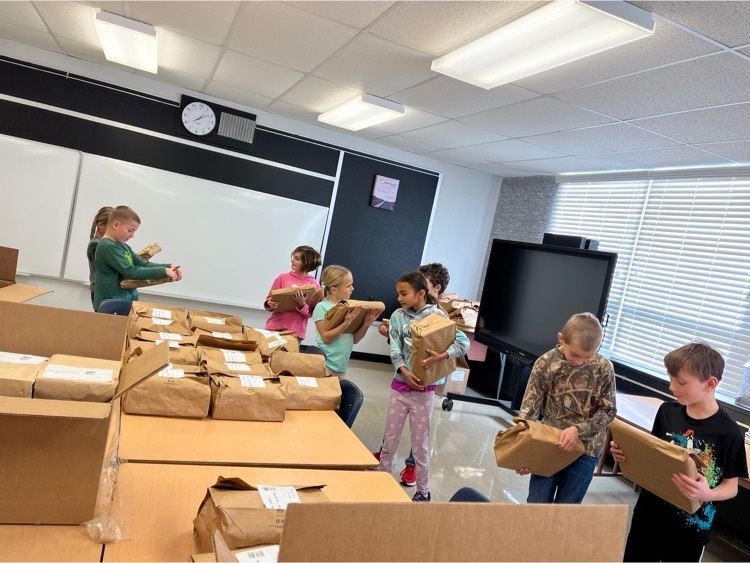 Wednesday Dec. 7th at 1:00 pm, Wishek Elementary will be distributing books to the Pre-k through 6th grade that were acquired through our schools fundraiser Books are Fun. We are inviting the community members to come be a part of the celebration, and to continue to promotote the love of reading to our students. Book distributuion will take place in the Elementary meeting room, across from third grade. Cookies and juice will be served as a thank you for supporting our fundraiser.
Junior High Girls Tournament information.
Boys Basketball Linton Shootout information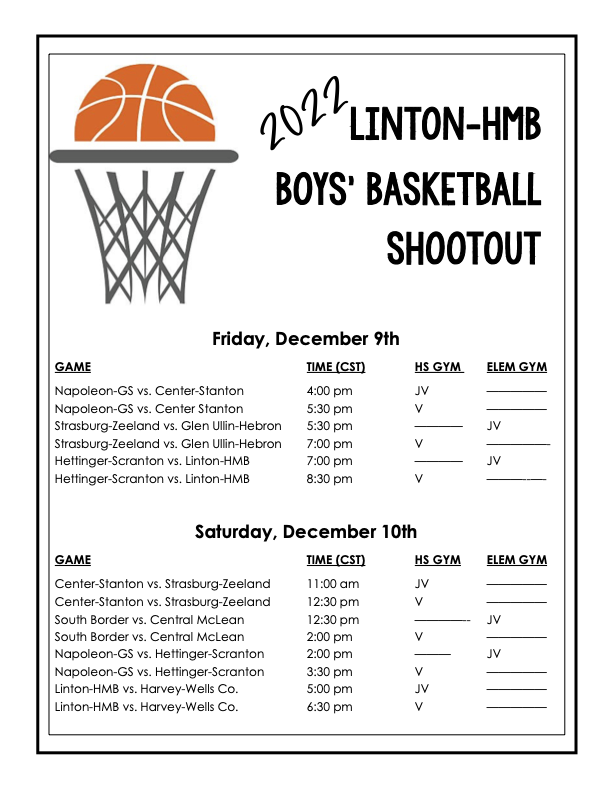 Girls Basketball Stutsman County Tournament information.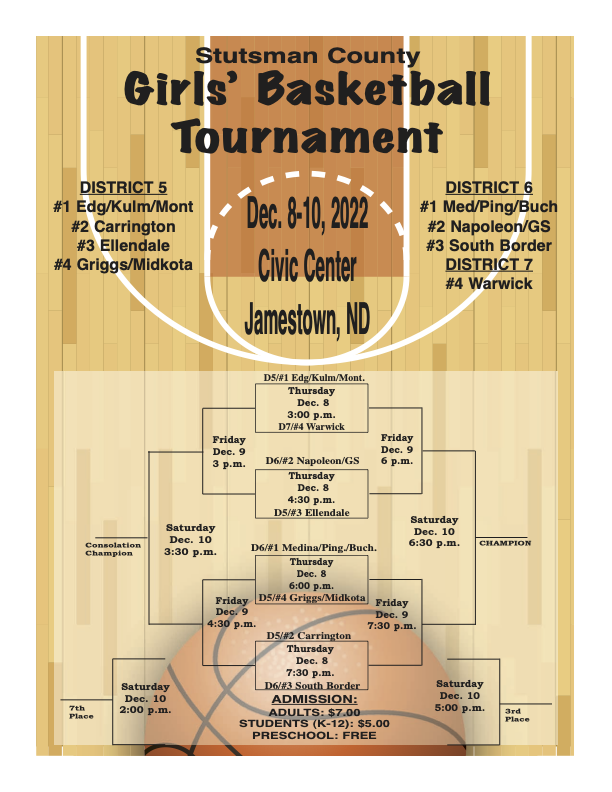 Girls wrestling pictures will be Wednesday Nov. 23rd in Wishek at the Armory.

Attached is the order form for Boys basketball apparel if anyone is interested in ordering.
Parents of Elementary students, we are experiencing an increase of multiple illnesses throughout the classrooms. We are asking that if your child is running a fever, please keep them home until they are able to be fever free for 24 hours without medicine. This will help attendance greatly. Thank you.
WPS in town transportation will start Dec. 1st. Please contact South Central Transportation to arrange for your child to be picked up.

Wrestling pictures will be tomorrow Nov. 17th in the Wishek Armory starting at 3:30. No order forms needed. A link from Staci Just will be available for online ordering.
Wishek Public School will be closed Thursday November 10th. reminder no school Friday in honor of Veteran's Day.

Split Wrestling practice tonight, Wishek athletes will practice in the Armory tonight.

Reminder to all athletes: With winter sports starting up please make sure you get your physicals into Miss Zorn. Athletes can not practice until they have a physical. Please make sure they are the NDHSAA approved physical forms that the Dr. fills out as well. Thanks!

Regional Volleyball kicks off today! Here is the bracket for the tournament. Lets go Mustangs!

Today and Mondays district volleyball games will be broadcasted on the NFHS Network and Tuesdays game will be broadcasted by BEK. Good luck Mustangs!!
Wishek Elementary School is holding an elementary fundraiser through Books R Fun where we are trying to raise $100 per child to receive 10 new books. If you are willing to donate to this cause, please reach out to Ms. Bosch at 452-2892 or make your check out to Books R Fun and bring it to Alyssa in the office. Thanks so much for your help in getting our students new books!
Curb appeal upgrade started. The plan is to display the American flag every day. The Mustang flag will be displayed when there are home sporting events at Wishek Public School.